2023 Bingo and Feather Party
We will be having our Feather Party this year!!! It will be Saturday, November 11. Doors open at 6 pm and bingo starts at 7 pm. All of the bingo prizes are donations from local businesses. Also every bingo winner will receieve a frozen turkey donated by American Legion Post 460. We will have food and beverages for sale. There will also be 50/50 raffles. We look forward to seeing everyone and having a fun time!!!
2023 Gun and Cash Raffle
Below are the guns and cash prizes that we have on our 2023 raffle. We will be set up in the Belleville Library Park and selling tickets at UFO Days on Saturday October 28, 2023. The prize drawing will take place at 10 PM at the Feather Party.
The Belleville Veterans' Memorial Park
On October 8, 2018 the dedication ceremony for Belleville's Veterans' Memorial Park was held. After planning and fund raising for a few years, Duppler-Smith American Legion Post 460 is proud to announce the completion of the Veterans' Memorial Park that recognizes all honorably discharged Veterans in Belleville and the surrounding area. The location of the Memorial Park is at the entrance of Community Park, located between the pedestrian bridge and River Street along the Riverwalk. America's Veterans gave their all for us so that we can enjoy the freedoms we have today. The park recognizes the sacrifices of all the Belleville area veterans who have bravely served our Country over the years. Thanks to everyone that donated their time, money, and labor that made this possible!
The Design of the Veterans' Memorial Park
The Memorial, which is for all past, present and future Belleville area veterans, consists of 5 large granite pieces made by Archie Monument & Stone Inc. The largest section of the memorial is a Veterans' stone with a diamond-etched eagle. The back of this stone has the names engraved of the Gold Star veterans - those who died in service of their country. The two smaller stones - a tribute to all branches of the military (engraved with the emblem of the branch of service) and a tribute stone lists all of the major wars and conflicts. The forth and fifth stones are engraved with the names of all Belleville's past and present veterans. There are three flagpoles flying the American Flag, Wisconsin flag, and the POW-MIA flag. These have lights shining on them at night.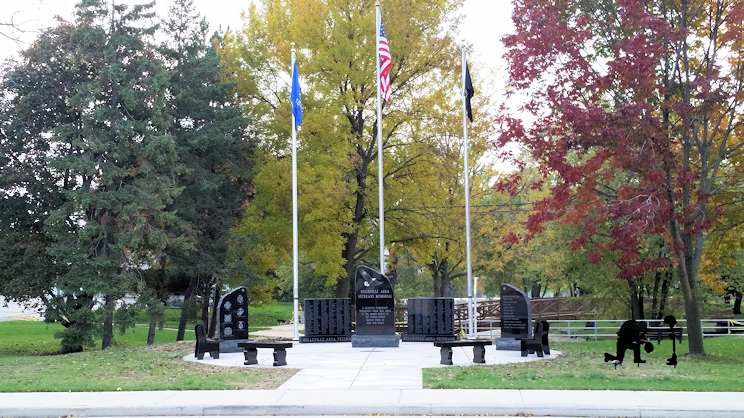 How to Have a Veteran's Name Put on the Memorial
Please download the Memorial Park Donation Form. Any individual wishing to honor a friend or family member who is or was a veteran of any branch of the United States military may donate to have to have the veterans name engraved on the monument in the Veterans Memorial Park. The suggested donation is $125 for each veteran's name.